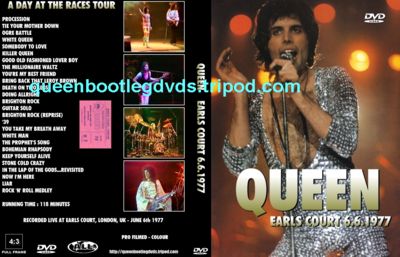 Date : 6.6.1977
Venue : Earls Court
City : London
Country : England
Running Time : 118 min.
Picture Quality : Very Good+
Sound Quality : Excellent
Tracklisting:
Procession
Tie Your Mother Down
Ogre Battle
White Queen
Somebody To Love
Killer Queen
Good Old Fashioned Lover Boy
The Millionaire Waltz
You're My Best Friend
Bring Back That Leroy Brown
Death On Two Legs
Doing Allright
Brighton Rock
Guitar Solo
Brighton Rock(Reprise)
' 39
You Take My Breath Away
White Man
The Prophet's Song
Bohemian Rhapsody
Keep Yourself Alive
Stone Cold Crazy
In The Lap Of The Gods...Revisited
Now I'm Here
Liar
Rock 'n' Roll Medley
*PRO-filmed.
Review:
This DVD covers the complete concert. Only God Save The Queen is missing. There is a strange double segment for about 25 seconds during the last part of the Rock 'n' Roll Medley. It's on all other copys so far with this version. Overall picture quality is very enjoyable and good coloured with no lines in the screen. The sound quality is Excellent. This concert was originally recorded to be released as Queen's first live video, but due to some technical problems with Freddie's microphone it was never released. Visually it is the best version available on DVD so far. NOT sourced from VCD/SVCD.
DVD Attributes:
Video Attributes:

Video compression mode: MPEG-2
TV system: 625/50 (PAL)
Aspect Ratio: 4:3
Display Mode: Both Pan&scan and Letterbox
Source picture resolution: 720x576 (625/50)
Frame Rate: 25.00
Source picture letterboxed: Not letterboxed
Bitrate: Around 4.50Mbps
Audio Attributes:

Audio Coding mode: Dolby Digital
Sampling Rate: 48kHz
Audio application mode: Not specified
Number of Audio channels: 2
Bitrate: 256 Kbps
Number of Audio streams: 1
Screenshots: